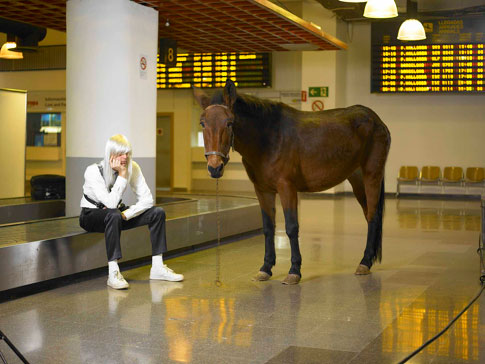 Artist: Khan
Album: Who Never Rests
Released: May 22nd, 2007
Label: Tomlab
If you're not familiar with Khan, all I can say is he really never rests. Born Can Oral (possibly the best name EVER, in my opinion), raised in Frankfurt to Turkish-Finnish parents, Khan is an extremely prolific producer – to put it mildly. Describing him as a restless vagabond is not really quite enough. He's a world resident (currently based in Berlin, after previously residing in New York, Mexico, Cologne and Finland) who has produced electronic music under at least 10 pseudonyms and collaborations (including Bizz OD, 4E, El Turco Loco, Captain Comatose, Kid and Khan). So for his first album for Tomlab, Who Never Rests only begins to explain the persona of Khan, yet at the same time, presents a very complete picture of the musician and man today.
Who Never Rests is a celebration of a man who is in full control of his sound and vision. With his previous albums on Matador, the journey was just starting. 1-900 GET-KHAN was the first chapter of the story. Khan launched the persona of a male hustler, selling himself to the audience by performing in a pair of underpants with "KHAN" stitched on the ass. It certainly got the party started! Then with No Comprendo, Khan produced a living-homage to the artists that inspired him, collaborating with Diamanda Galas, Andre Williams, Kid Congo Powers, Brigitte Fontaine, Julee Cruise, and Stereo Total's Francoise Cactus. It's a true work of sheer class and innovation. Might sound cheesy, but if you listen to it, you'll get the drift. But then Khan started focusing on collaborations. He toured and produced with Kid Congo Powers (The Gun Club, Bad Seeds, The Cramps) and released Bad English (Transsolar). He recorded as Little Annie and The Legally Jammin (with Christian Jendreiko). And he recorded and toured as Captain Comatose (Going Out and Up in Flames) on Playhouse as the last standing disco band: one giant disco party!
Now the party isn't really over…it's just mutated into a celebration of Khan. "Honey, it's been a journey to the moon and back…" he sings on "Favor After Favor", and that summarises Who Never Rests pretty well. Khan has lived all over the world, worked with his heroes, started the party and got the T-shirt. Now he's quite literally found his voice. Six years ago, he had other people sing his songs and now it's him – solo. Unashamed. Upfront. Honest. All or nothing. Khan times 20! He's finally worked out where his home is: within himself. For those who have that eternal search for needing to belong, you'll know what he means. He'll never rest because his restless soul is in his blood. A Turkish-Finn, raised in Germany and performs in English? Sure. For Khan, this is who he is. Believe that.
So yet there is another progression in Khan's sound and style. Who Never Rests drips with sleaze and sophistication. There's a party, and Satan's standing in the corner, soakin in sexy sweat, drinking champagne with the gothic bunny himself. ("Take it Out on Me", "Strip Down", "On the Run", Favor After Favor", "U Like 2 Party") Khan's a torch singer in a greasepaint carny clown suit, ready to strap you in and take you to Hell. But don't worry, he'll bring you back in one piece after he has his way with you. ("Who Never Rests", "Hey Lil' Sister", "Excommunication", "The Shining"). Khan's journey is one that isn't about to end so you better just sit back and enjoy the ride. To experience this fully, you need to see Khan at his live finest. He performs solo or in the trio Khan of Finland, featuring Boris Bergmann on piano and Mark Boombastik as human beatbox. Coming to a village of the damned near you…
TRACKLISTING
01. Excommunication
02. Satan Backwards
03. Strip Down (mp3)
04. Golden Dawn
05. I Got To
06. Who Never Rests…
07. Take It Out On Me
08. You Like To Party?
09. On The Run
10. B-Movie
11. Hey Lil' Sister
12. The Shining
13. Favor After Favor
Press Contact: Matt Wright, (503) 679-7499