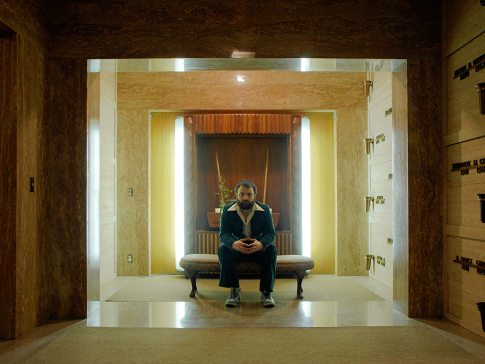 Artist: Copy
Album: Hair Guitar
Released: May 29th, 2007
Label: Audio Dregs
Last year, COPY (who's known as Marius Libman to friends and family) proved that geography isn't everything. Because while Europe and the East Coast once monopolized the modern electro-house sound, Portland now lays claim to its own innovator who has taken the genre to new and unexpected places. His debut, Mobius Beard (Audio Dregs), displayed a knack for melding headphone-friendly synthpop with floor shaking dance music (…or wait, is it the other way around?) that tore up stereos and clubs throughout the city of Portland and beyond. After a year-long string of legendary, sweat-soaked live sets that invetably erupted into epic dance parties, COPY was voted "Best New Band" by the Willamette Week, solidifying his place as a rising star within the local music scene. Outside of Portland, his infectious brand of instrumental dance music made fans of the likes of Tim Sweeney (DFA), Lovefoxxx (CSS) and countless DJs, audiophiles, hipsters and music nerds alike, who found his style undeniable; somewhere between Ratatat, Timbaland, and MSTRKRFT. And with the release of his notorious Diva Mixtape Vol.1 under the guise of DJ COPY, new life was breathed into the likes of Mariah Carey and TLC, turning mid-90s RnB jams into triumphant, upbeat bangers that snuck their way into the hearts of many unsuspecting listeners (who weren't exactly expecting to roll down the windows and pump their brakes to Whitney Houston this side of the millenium).
A full-fledged music nerd himself, Marius' tastes and influences cast a wide net. Citing the likes of Herbie Hancock, Fugazi, and Dr. Dre as three of his biggest influences, an early interest in music that sonically and thematically pushed the boundries outside of the confines of any specific genre has shaped the sound that he today calls his own. A deft fusion of synthpop, italo disco, hip hop, electro and pop, Hair Guitar is a monolithic release, both explosive and fragile, that simultaniously begs for attentive listening and crazed, all-night dance floor freak outs.
PRESS QUOTES
Mark Willett, Music for Robots:
"This song is fucking dope. Copy is coming seemingly out of nowhere (well, Portland, Oregon) with this debut, and it's very good… a thick, deep sound with hot action."
Nick Barat, The Fader:
'If you dug the bleep-n-b of folks like Ratatat and The Blow, then DJ Copy's The Diva EP is your bonus beat of the year."
Josiah Hughes, XLR8R:
"An 8-bit masterpiece of fuzzy synth harmonies and innovative beats. Bustling with jovial melody and human frailty. …that begs repeated listening."
Jeff Penczak, Foxy Digitalis:
"This is an album to dance to, not to sit in your easychair and contemplate its significance in the annals of 21st century electronica."
Lemon Red:
"It's dynamic and interesting, which is something I rarely find myself saying about this genre."
TRACKLISTING
01. Fist (mp3)
02. This is Promotional
03. Assassinator
04. Zipper Problems
05. Could You Like Her
06. You See Around Maybe
07. Actual
08. You Can Not Believe it
09. Remember Florida
10. Closet Face