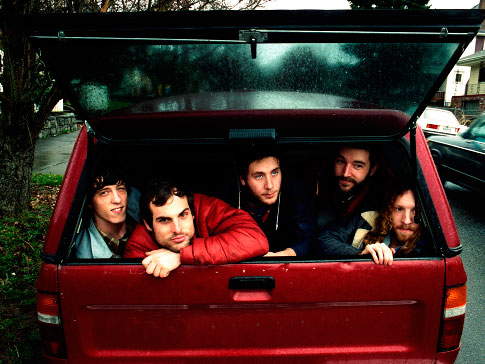 Artist: The Shaky Hands
Album: The Shaky Hands
Released: April 10th, 2007
Label: Holocene Music
Holocene Music is beyond stoked to present the debut full-length from Portland, Oregon jangly pop wunderkinds The Shaky Hands. Sliding bouncy go-go beats under shambling guitars and reedy, swooning vocals, Shaky Hands make the kind of catchy, soulful indie rock that's tailor-made for brokedown car stereos and river-rat boomboxes. Their debut album's 13 tracks glow with a sloppily romantic warmth that's equal parts summer sunshine and candlelit mellow, pre-party buzz and scruffy day-after fuzziness. The result is a fully formed and confident debut; a big-hearted, starry-eyed bear hug of a record, full of youthful energy and tumbling vigor, just waiting to back new adventures and comfort old friends.
The Shaky Hands formed in Portland in the fall of 2003. They began as a three piece with Nick Delffs (also of Castanets) playing guitar and singing, Colin Anderson playing drums and Paul Culp on bass. That year was spent performing in basements and living rooms. Following Culp's departure in 2004, Mayhaw Hoons and his hair joined the band, soon followed by second guitarist Jeff Lehman. Around this time Nick and Colin traveled to Bonny Doon, California and recorded a self-titled EP with Nick's brother Nathan, which was subsequently self-released on CD-R. In 2006 Nick, Colin, Mayhaw and Jeff recorded this (amazing) debut full-length at Sidecar Studios in Portland, before bringing on Nathan as an official member that spring. Now five strong with Nathan on pedal steel and percussion, The Shaky Hands are a visceral, life-affirming live experience that will totally make you hug the person standing next to you.
PRESS QUOTES
Gorilla vs. Bear
"But the reason we're talking about the Shaky Hands here is that we can't get their insanely infectious tunes out of our head lately. I imagine if you're a fan of warm and fuzzy hook-laden rock of the Tapes 'n Tapes and/or CYHSY variety you'd really enjoy this, and if not, lighten up already."
Mark Richardson, Pitchfork
"The band rides the groove nicely, and Nick Delffs' shaky vocals makes it an especially sweet godspeed anthem. But it's that bassline that truly sells "Whales Sing"– which is rare enough in indie pop, rarer still in songs about whales."
Said The Gramophone
"['Summer's Life'] has the replay value of an old stationwagon. The rhythm of a much-tar-stripped country road. A melody like the sun poking under the pulled-down visor. Lyrics like an old Babysitter's Club book, the only thing to read in the glove compartment. It's a car trip, a Sunday, warm when you close your eyes. And the air is much easier to move through than to breathe."
I Guess I'm Floating
"A semi-barebones alt-indie-folkcountry-twang band with more charm than Michel Gondry's hands can manufacture."
Casey Jarman, Willamette Week
"I can't stop spreading the love for the Shaky Hands. They seem light years ahead of almost every band in Portland, and each show I see is better than the last. Fans of the Walkmen and Broken Social Scene will love this band, which employs some of the same held-note meditations on melody and harmony. To this formula they add an irresistible summertime porch-party vibe and an absolute love of the stage that shines through every chord and every bead of sweat falling from their faces. The Shaky Hands is the best rock band in Portland, and I'm going to get as much inspiration from them as I can before everyone else realizes it."
Hutch Harris (The Thermals), Pitchfork
"There's this band called Shaky Hands, which is from Portland. I still haven't met those guys, so we have no affiliation, but I hope we will be affiliated soon, in the future. I think eventually we'll probably have to play a show together. They played a house show a couple months ago, and it was fucking awesome."
TRACKLISTING
01. Whales Sing
02. The Sleepless
03. Why & How Come (mp3)
04. Maker Make
05. We Will Rise
06. Another World Part 1
07. Another World Part 2
08. I'm Alive
09. Sunburns
10. Host Your Day
11. Whirling Wind
12. Hold It Up
13. Summer's Life
Press Contact: Matt Wright, (503) 679-7499