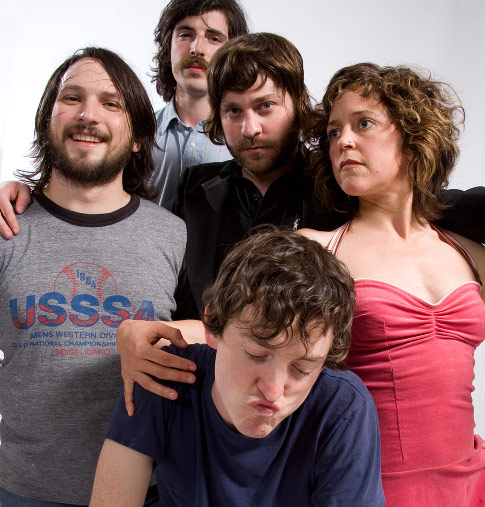 Pseudosix is a subtly unusual rock band from Portland, Oregon. Their music reflects an affinity for the carefully crafted song, but is also permeated by layers of spontaneity and raw emotion. Melodic and vocal driven, theirs is a sort of dark and scary pop. Well-honed vocal harmonies pave a delicate path. But seeping through the crevices is an underlying tension that makes for restless sleep.
Their history reads as follows: In the Spring of 2001, Tim Perry finally got enough balls to stand up by himself in front of some people and belt out some songs he'd written. He called his "project" Pseudosix (a word he invented and which has no meaning) because it seemed a bit more interesting than his own suburban white-boy name. Soon after, Tim was joined by Joe Kelly (then drummer for 31 Knots, now of Leti Angel) and Emil Amos (Holy Sons, Grails, Dolorean) and the solo project became a three-piece band. Together they collaborated on an album called Days of Delay, released on 54º40′ or Fight!, recorded in late 2003, which, among other things, garnered the respect of several Portland musicians. Through these relationships came musical collaborations with talented individuals from local bands such as The Decemberists, The Joggers, The Standard, and Dolorean.
These collaborations reach their fulfillment on the new album, Pseudosix. Recorded over the course of 2005/2006 by Jay Pellicci (31 Knots) at Portland's Type Foundry and Jackpot studios, the record showcases a more dynamic sound, complete with strings, piano, guitar and drums… and a shit ton of creepy vocal harmonies. The songs have a classic, crafted quality to them. Clear choruses stretch out into long instrumental passages, replete with arcing, gorgeous guitar riffs. Far from one-dimensional, Pseudosix is as soft as it is harsh, as safe as it is violent: a unique combination of sepia-tinged warmth and bitter madness that is very much it's own.
Pseudosix consists of Tim Perry (vocals, guitar), Brandon Barnhill (bass), Dan Wilson (guitar), Jake Morris (drums), Jay Clarke (piano) and Kate O'Brien (violin). Emil Amos (guitar) is no longer in the band - but he's all over the motherfucking album. Jake and Dan also play in The Joggers, Jay plays with Dolorean and The Standard, and Kate plays with Iretsu and tours with Eric Bachman/Crooked Fingers.
TRACKLISTING
01. Some Sort of Revelation
02. Under the Waves (mp3)
03. Apathy and Excess
04. Waisting Taking Up Space
05. Paltry Remains
06. Enclave
07. Treacherous Ways
08. Fight or Flight
09. Fire vs. Flame
10. A Million Shards
Press Contact: Matt Wright, (503) 679-7499