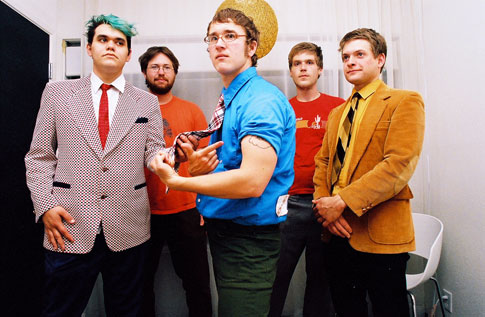 Artist: Alan Singley & PANTS MACHINE
Album: lovingkindness
Released: June 20th, 2006
Label: Slow January Records
In a musical climate hooked on irony, cynicism, and superficiality, Alan Singley and Pants Machine are a refreshing change. Their latest, lovingkindness, is their most bravely optimistic album to date. Insound says "The visceral psychofolk songwriting of Alan Singley reverberates an offering from the deepest of boxes; a lo-fi messenger of the darkest and loveliest hours." And Casey Jarman of Willamette Week raves "Singley is Portland's hidden treasure!".
Previous to Oregon, Alan was in Orlando, Fl and playing under the moniker Missouri Loves Company. Stepping down from front man, he also added keyboards in Pilots Vs. Aeroplanes, a band that toured nationally in 2003. PVA also played 5 dates on the Warped Tour and released "our desire is wind and motor" on Good Bye Blue Skies Records in 2000.
PRESS QUOTES
MAGNET MAGAZINE, "Band to Watch"
"When a lead track's lyrics reference The Beatles' "Birthday" and Queen's "We Will Rock You," it's safe to say the party has just begun. Oh, and let's not forget about the Thin Lizzy shout-out. But this Portland, Ore., quartet isn't stuck rehashing it's fawned-over forefathers. Instead, it makes rambunctious pop in a post-Sufjan world. Which shouldn't imply the group gravitates towards Stevens' penchant for the non sequitur and the non-secular; Alan Singley & Pants Machine simply favor the epic bells, synthy sounds and occasional choruses used by the man who put Illinois (not Chicago) on the musical map. For a closer approximation, try Ben Kweller or Ben Lee admiring the Architecture In Helsinki, or serving as the foundation of Tilly's Wall. Look out, Portland: This band could wear the pants in your pop town"
Jason Pearson, The Portland Mercury
"On locals Alan Singley and the Pants Machine's new record, lovingkindness, we're shown a band that sounds like it started as a (now clichéd) "indie junk orchestra" but somewhere along the way learned how to play their instruments and found a common aesthetic, but kept the youthful playfulness and rambunctious spirit of their early days. Alan Singley (voice, acoustic guitar, keyboards), Gus Elg (upright bass), Leb Borgerson (electric guitar), and Benjamin Jaspers (drums) keep things carefree sounding, disguising the fact that Singley is tackling existential topics in his lyrics that are just as weighty as any band that might wear their heart, aesthetic darkness, and intellectualism, say, a li'l bit closer to their shoulder."
Casey Jarman, Willamette Week
"Alan Singley, to put it lightly, is a different sort of musician. Unabashedly enthusiastic and unashamed of that enthusiasm, the pop songwriter seeks more than anything else to connect with an audience on an intimate level. Sometimes that effort is a little unsettling, as it was last week when he showed up at my front door with a copy of his new album, Lovingkindness, and asked, through the screen door, "Are you Casey Jaaaahman?" I told him yes, and added that I hadn't expected his album to be hand-delivered. His gaze wandered from my door up to some clouds, rested a moment on a couple of trees and then landed back down on me. "We were just driving around," he said.
Singley has always made music that's as goofy and full of wonder as he is. His songs are about love and nature, his voice well-rehearsed but still filled with a childlike unpredictability. Once in a while, Singley stumbles into a six-minute stint of wandering psychedelia or a quick and silly rock number, but the best work on his previous albums has also been the gentlest, with Singley's fragile voice wrapped in piano and finger-picked guitar. It's in those moments that one realizes Alan Singley was born in the wrong decade, his music resting comfortably between Smiley Smile-era Beach Boys or Village Green-era Kinks. Lovingkindness, Singley's third release, is his first album with backing band Pants Machine. It's also the first of Singley's albums to be properly produced in a studio, by John Cohrs, Skyler Norwood (Point Juncture, WA) and Gus Elg (Wilding). These changes have helped keep Singley's meanderings in check, while allowing him to flex his lyrical whimsy. This is on display on the album's uptempo opener, "I Dunno Where 2 Start," the utterly ridiculous, tight and funky party anthem filled with warbling moments of psychedelia and the line "They say it's your birthday/ So try not to get dizzy/ When the DJ gets the orders to pump up the Thin Lizzy." The machinery surrounding Singley not only helps him from straying into six-minute territory, it also wisely leaves him room to breathe on tracks like "Watersong," a classic, multilayered pop ballad, and "Underneath," wherein he sings with heartbreaking directness about an abusive father: "As we got older I started to think/ That underneath all the alcohol, the cocaine and the violence/ There was a man/ And I'm not saying it's right but I understand." This seriousness is something new for Singley, but you wouldn't know it by the way he delivers those lines, keeping the heavy parts heavy, the funny parts funny, and the pretty parts absolutely gorgeous. Alan Singley might be Portland's most eccentric songwriter. But he is also its most under-appreciated, and as Lovingkindness ultimately attests, one of its very finest."
TRACKLISTING
01. I Don't Know Where to Start
02. Highways of Our Minds
03. Yr Little Hand In Mine
04. Short Sleeve Stumblah
05. Bank of the Sun
06. Watersong
07. Seahorse
08. Bruises
09. Cruel, Cruel World
10. Four Dollahz
11. Holyrollercoaster
12. Underneath
13. Holiday Clothes
Press Contact: Matt Wright, (503) 679-7499