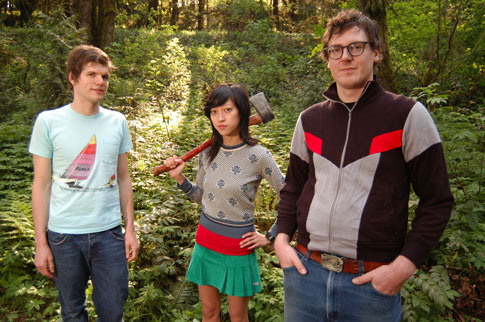 Artist: Wet Confetti
Album: Lauging, Gasping
Released: February 6th, 2007
Label: Pampelmoose
Formed in Portland, Oregon in 2001, Wet Confetti combine slamming, complex dance beats with lazer-precise guitar stabs, buzzing synths, and front woman Alberta Poon's ghostly vocals. The result is a surprisingly melodic noise-pop/no wave/punk hybrid that has quickly made them one of the city's most beloved bands.
Since winning local alt-weekly Willamette Week's Best New Band tag in 2005, the trio has played countless basement and house shows, becoming fixtures of the local art-punk underground and gaining a massive live following. As a result of this fierce performance regimen, Wet Confetti is one supremely tight live band: Mike McKinnon's Bonham-esque drum barrage is perfectly complimented by Dan Grazzini's sharp atonal riffs while Poon's vocals punctuate the beat. (For documentary proof, check out the recent Portland installment of Fugazi drummer Brendan Canty's acclaimed Burn to Shine series, in which Wet Confetti can be seen performing alongside an all-star cast of Portland bands including Sleater-Kinney, The Thermals, The Gossip, The Decemberists, and The Shins.)
On Laughing, Gasping, Wet Confetti has finally captured this live energy in recorded form. Co-produced by legendary Gang of Four bassist Dave Allen and former Shriekback bandmate Mike Cozzi, the album was recorded in Cozzi's Seattle studio in the Fall of 2006, and finds Allen contributing bass on standout track "Sorry Dinosaur". The result in a propulsive, anxious work that's sure to please old and new fans alike.
PRESS QUOTES
"Portland's Wet Confetti mix equal parts arty ambition and postpunk rhythm to create music that is both cerebral and physical. Their synth-splattered no-wave recalls the earlier, noisier work of Blonde Redhead or Numbers' paranoid dance rock. Singer Alberta Poon's vocals are at times pretty and delicate and at other times urgent gasps and shouts. Drummer Mike Mckinnon keeps a steady, danceable beat, while guitarist and co-vocalist Daniel Grazzini picks out discordant melodies and mangles riffs. Sometimes a keytar makes its way into the mix. Sparks of tension and moments of ecstatic release charge their live shows, with the band members' playful dynamic safely venting any excess steam from their creative combustion." - Eric Grandy, The Stranger
TRACKLISTING
01. Touch It
02. Dazzle of Dynamite
03. False Alarm
04. Sorry Dinosaur
05. Donuts and Old People
06. Laughing, Gasping
07. Make an Offer
08. I Can't Refuse
09. Take My Advice
10. Marine Show
Press Contact: Matt Wright, (503) 679-7499