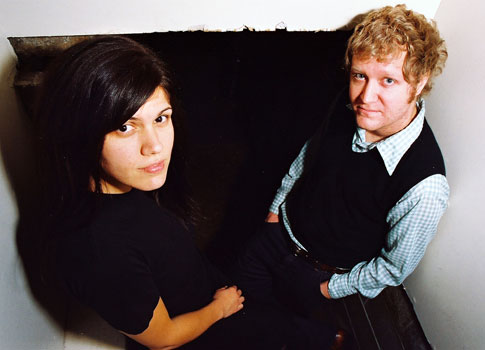 Artist: Talkdemonic
Album: Beat Romantic
Label: Arena Rock
Like nothing the Pacific Northwest has seen before, Talkdemonic melds the primal, the classical and the modern to create songs that are as sweeping in scope as they are shattering in intensity. The band calls it folktronic hop and, for the last year, it has helped Talkdemonic create a fanbase in the Pacific Northwest that grows with each performance, the tales of the band's ability to capture the most human emotions with only drums, viola, a laptop and no vocals attracting curious onlookers that are soon turned into devout fans. Started as a vehicle for the music of Kevin O'Connor soon after the soft-spoken musician moved from the college town of Pullman, Washington to Portland in 2002, Talkdemonic released its first album, mutinysunshine, in the spring of 2004.
In the summer of 2004 O'Connor finally convinced Lisa Molinaro, the phantom violist whose instrument played out of O'Connor's laptop during his live sets, to join him, completing a small band with a huge sound. Soon O'Connor and Molinaro's shows became sure bets for great Portland music and Talkdemonic was named Willamette Week's Best New Band of 2005. The award landed the band on the cover of the alternative weekly and in the headlining spot of a showcase that saw a block-long line waiting outside Berbati's Pan in vain to see the band that was simply blowing away a packed crowd inside. Throughout all this Talkdemonic found time to record a highly anticipated sophomore slab called Beat Romantic, which was released by Arena Rock Recording Company in August of 2006.
PRESS QUOTES
David C. Obenour, DIW Magazine:
"Getting a bit more organic is Beat Romantic, an instrumental masterpiece by Pacific Northwest drum and viola duo Talkdemonic. Making ample use of samples to weave between their beats and strings, the group members create a laid-back, neo-psychedelic sound akin to Mogwai and Godspeed You Black Emperor."
Mark Richardson, Paste:
'Post-rock with strings' usually brings to mind a large, hirsute collective given to brooding drama and instrumental bombast. But Talkdemonic brings an intimate chamber-music feel to the sound. The duo combines guitar, banjo and viola atop a bed of subtle electronic and acoustic beats; their tracks tend toward short sketches, averaging just over two minutes and some run together suggesting a longer composition. Completely avoiding their antecedents' noodle-y excesses, Beat Romantic is an album of carefully arranged pop songs that happen to have a viola singing lead."
Tony Ware, URB:
"Talkdemonic doesn't speak in tongues; in fact the instrumental duo doesn't speak at all. And yet these wistful vignettes of viola + Powerbook + percussion speak volumes. It's like the collected folklore of when the Dirty Three, the Notwist and M83 huddled under an umbrella, linking samplers."
TRACKLISTING
01. Veraison
02. Mountaintops In Caves
03. Dusty Flourescent/Wooden Shelves
04. Junesong
05. Cascade Locks
06. Skyscraper
07. Bering
08. Human Till Born
09. Sept With Smith
10. Manhattan '81
11. Mountain Cats
12. White Gymnasium
13. Axe and Red Sweater
14. Lightning and Butterflies
15. Hillside Monarch
16. Verite
Press Contact: Matt Wright, (503) 679-7499