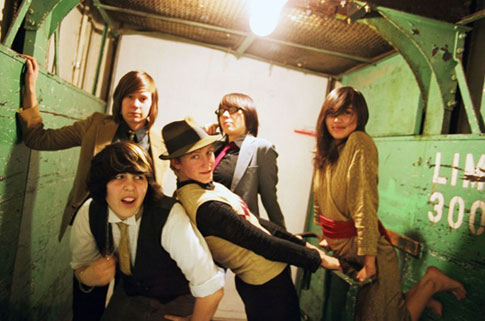 Artist: Swan Island
Album: The Centre Will Hold
Released: October 24th, 2006
Label: Holocene Music
Swan Island is an all-female dance-metal crew founded in Portland, OR in March of 2004. Clearly situated within the grand tradition of Pacific Northwest feminist rock (Sleater-Kinney, The Gossip), Swan Island boldly encompasses Heart's heart, Sabbath's chug, and The Au Pair's political disco. The Centre Will Hold captures this unique fusion with the kind of crackling, raw energy that's made their live shows legendary, resulting in a confident opening statement with soul and style to spare.
PRESS QUOTES
Corin Tucker, Sleater-Kinney:
"There is a lineage in Portland, but young women have always sought out role models that appeal to them, and there are girls plunking on guitars all over the world. And you can bet they will show up at the Swan Island show."
Joe Gross, SPIN:
"Sleater-Kinney changed these five Portland gals' lives the way riot grrrl changed S-K's. And initially, they seem to embody every surface description of feminist punk all at once - butch and femme, political and fanciful, arty and breathy. But on this debut album, the drums find real grooves and the guitars hook up and make out, while singer Brisa Gonzales misses old lovers ('Night Owl') and passionately tries to mind meld with the earth ('Crumble'). Expect underground domination any day now."
Jim Keller, Venus:
"With this impressive debut, it's clear Swan Island is a band of substance; five women who bring the rock, metal, and dance, and bring it hard."
Willamette Week:
"Heart crashing an orgy between the B-52's and Black Sabbath."
Michelle Tea, San Francisco Bay Guardian:
"[Swan Island] mixes dark, jangly melodies and striking guitar sounds, creating a sonic place to dance the apocalypse away."
Joe Gross, Austin American-Statesman:
"Swan Island's proggy punk weaves together dissonant guitar flickers, building on Sleater-Kinney's new wavey strum the way S-K built on Bikini Kill's feminist punk."
TRACKLISTING
01.Crumble
02. Night Owl
03. Flew the Coup
04. Junk Parade
05. Home
06. Tracks
07. The Centre Will Hold
08. Grey Matter
Press Contact: Matt Wright, (503) 679-7499