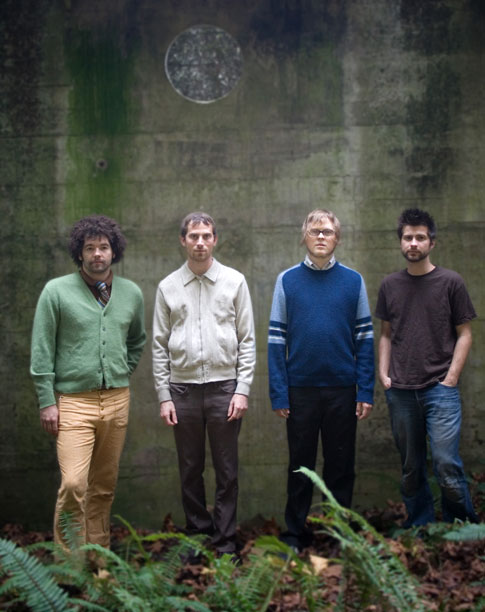 Small Sails is a music and film making collective hailing from Portland, Oregon. The music is a gorgeous post-electronic tribal thing – like The Books remixing Animal Collective remixing American Analog Set – and the films are composed live at their shows using old reel-to-reel footage and dual projectors. A field of dandelions plowed over, inner-city kids jumping double-dutch in gritty streets, birds and waterfalls, playground vocals, clicky electronics and warm, spacey melodies – that's what Small Sails looks and sounds like.
Up until recently Small Sails was called Adelaide. They toured extensively, and sold 1000 copies of a hand-made CD-R EP. They're deeply loved in Portland, where they've shared the stage with kindred souls Styrofoam, Do Make Say Think, Alias, Her Space Holiday, and Mice Parade. And they're hard-working, performing over 50 shows in 2005 alone.
Now it's 2006, and Adelaide becomes Small Sails. The shift caps a year of lineup changes (drummer Mike and bassist Bob departed, drummer Gary joined) and sonic exploration. Their new album is different, too: chanting, humming vocals hint at tangibility while remaining half-submerged; rhythms are a baby-bouncing jumble of eclectic percussion and twittering electronics; and achingly gorgeous melodies get stripped down to the still-gleaming bone.
***
HIGHLIGHTS
Touring the West Coast and Midwest this March, with a full national tour planned for the summer.
Small Sails programmer/keyboardist/vocalist Ethan Rose's solo album was Wilco drummer Glen Kotche's favorite record of 2005, as reported on Pitchfork.
New track "Aftershocks and Afterthoughts" will appear the forthcoming Rorschach Suite Compilation, released Spring 2006 on Ghostly International A&R guy Jakub Alexander's Moodgadget label. Other artists on the comp include Dykehouse (Ghostly International, Planet Mu), Benoit Pioulard (Kranky, Ghostly International), and Wisp (Sublight, Hymen).
Small Sails recently received a grant from Portland's Regional Arts & Culture Council to create an original short film.