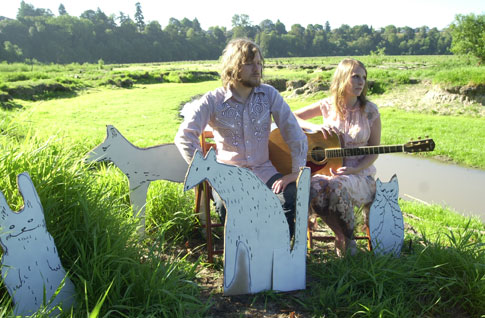 Artist: Plants
Album: The Mind is a Bird in the Hand
Release Date: 4/4/06
Label: Audio Dregs
Portland, Oregon's Plants are a psychedelic folk act that blend ethereal acoustic textures with melancholy lyrical beauty; employing strings, organs, flutes and bells they create a sound that's 'quietly intense', like the sound of a storm in the distance. It's their own kind of personal folk music for their an imagined world of half conscious dreams, living forests and mystical creatures.
The band is the brainchild of singer/guitarist, Josh Blanchard's and cellist/pianist Molly Griffith's musical and romantic partnership. Molly is classically trained in medieval music and harpsichord and has played in the past with Portland notables such as The Decemberists and 31 Knots. Joshua has spent ten years crafting pop songs and hallucinatory electronic pieces, from the acidic Point Line Plane (Skin Graft) to previous efforts with avant-psychde band The Mome Raths. Its their mutual love of things both very old and very new that keeps the band fresh, as Plants collect ideas from modern ambient composers, 60's acid folk voyages, and ancient musical texts.
Recorded one rain and whiskey soaked Oregon springtime, the group's debut album "The Mind is a Bird in the Hand" is an achingly restrained and moody affair. From the brooding opener "Acorn Child" to the closing chords of Fantasy-folker, "Invisible Islands", the record explores themes of redemption and turning darkness into light. The record hosts a great cast of subtle guest performances by Michael Hendrickson (Jackie O Motherfucker), Brian Foote (Nudge) and Jason Buehler (Nice Nice) and is mastered by respected "folktronica" guru, Greg Davis.
"Plants play a mystical brand of psychedelic folk whose solemn, droning beauty and stately pace recall Six Organs of Admittance and Pearls Before Swine at their most pastoral and intense." Dave Segal, The Stranger
"Plants alchemize hazy, stoned, sylvan folk and ambient sound into warm, shimmering, psychedelic gold." Adam Gnade, The Portland Mercury
Track Listing:
1. Acorn Child
2. Wolves and Hooves
3. Blue Maiden
4. The Western Lands
5. The Cage
6. Evil Spirit
7. The Coming Storm Has Passed
8. The Mind is a Bird in the Hand
9. Invisible Islands