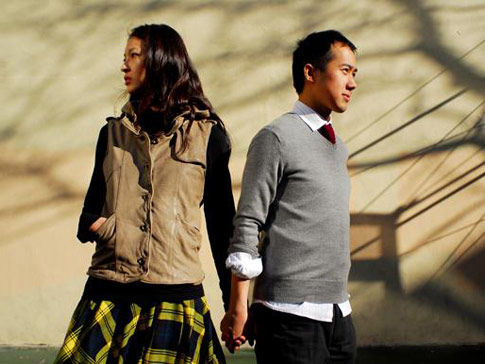 Artist: Misha
Album: Teardrop Sweetheart
Released: Summer 2007
Label: Tomlab
Misha are Ashley Yao and John Chao. The two have crossed paths since their childhood days in Taipei, but each time, circumstances caused them to move, wandering the world (here in Hong Kong, there in Paris) until they met again after college in New York. Two years after their debut on the highly respected Alphabet-Singles-Series on Tomlab, the Asian/American duo now presents their first LP Teardrop Sweetheart: a cycle of happy/sad love songs with a new take on an old pleasure: the classic pop album. Walking the line between traditional songwriting and modern music making, settings of grandeur and intimate doubts, Ash and John make little big things, imagining a dimestore Joseph Cornell, Buster Keaton with holes in his shoes.
Revolving around seemingly light-hearted lyrics, bittersweet melodies, and analog circuitry, the opener "Scars" sets the tone of the album, combining the "anything goes" sound and structure of contemporary pop with the glamor-filled, nostalgic optimism of the modern era, when everything burned brightly and anything was possible. Of course there is no way back to innocence (but cynicism is not the only way out). Below the bright and colorful side of Teardrop Sweetheart lurks something darkly. Misha compare this feeling of dislocation to an empty city. Imagine Neon-Shanghai or Tokyo in a movie by Wong Kar-Wai. A place overwhelmed by new ideas replacing old traditions. But the city's core feels hollow. Something is missing. This is Misha's attempt to fill this void, not only by giving some comfort but also raising questions about this failure of belonging a lot of people nowadays can relate to.
Misha sets these ruins of love on top of their disparate influences and childhood sounds, here Bollywood and Brill Buildings manifest, and there Tropicalia and Sino-pop ebb away. Van Dyke Parks and Burt Bacharach have clearly left their marks in Misha's quirky songwriting as well as Billy Strayhorn, RD Burman, Kraftwerk, the duo of Froom and Blake, and Os Mutantes in the skillfully crafted arrangements. (Just don't mention the little group from Liverpool.)
Broadway-sized strings, and horn sections are brought into strange environments built from rather ready-at-hand ingredients. Held together by the sense of nostalgia and dislocation, the album ranges from the Troplicaliaesque "Anaconda" and secret anthems like "Summersend" to the weird electro/Quasimoto-tribute tune "Cruelist Heart" and the quirky ballad "Delovedly" (ok, it's a bit more John than Paul).
The songs came into being in Misha's bedroom near Union Square, in what used to be The Strokes' old apartment - such are the vagaries of New York rent-controlled living. Emerging from a set of trans-atlantic valentines, these songs were produced, mixed, and mastered all over the world. Both members move around a bit – Ash works as a model (in the same agency as R'n'B up-and-comer Cassie) and John pays off his school debt with a suit-and-tie day job. Feel for Tomlab and producer Mense Reents (Ego Express, Die Goldenen Zitronen, Stella) who deconstructed the songs-in-the-rough with his canny approach from techno, punk, and pop music, dragging in good friends and Hamburg's finest musicians like DJ Koze (for sanity checking), DJ Phono from Deichkind (for mastering), and Ted Gaier and Melissa Logan from Die Goldenen Zitronen and Chicks on Speed (who lent a place to stay), before mixing the techni-colour miniatures of Teardrop Sweetheart with a touch of fancy seduction.
TRACKLISTING
01. Scars
02. Losing
03. Anaconda
04. Wheaterbees
05. Summersend
06. Crystal In Love
07. Delovedly
08. The Book (Of Glaciers)
09. Cruelist Heart
10. Shake A Little Closer
11. Trying