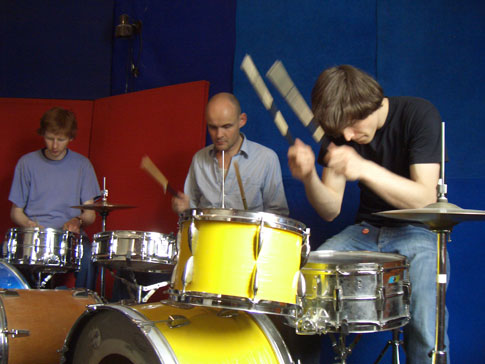 Artist: Kinn
Album Karlshorst
Release Date: 4/4/06
Label: Audio Dregs
KINN is a three piece band from Berlin:
Guitar: Frank Schültge Blumm whose releases on labels like Staubgold, Tomlab and Audio Dregs go back to 1993, his latest album ('Zweite Meer') came out on Morr Music in 2005.
Bass: Marcel Türkowsky whose solo-Performances as a tape-artist will soon find their way on a split LP with 'Zeitkratzer' Reinhold Friedl on Bremen's Happy Zloty label.
Drums: Jan Thoben who released on Beau Rivage and plays in bands like Gaston and Taunus.
KINN build up analogue loops and stumbling digital transformation with their instruments and electronic extensions. They create a unique musical suction; with which they achieve a wide range of dynamics and modes. Polyrhythmic structures and tonally diverse patterns flow in a sonic stream slowly morphing into rocky passages and leaving off for chamber-club-music. On "Karlshorst" KINN convincingly integrate field recordings into the rhythm and tonality of their instrumental playing.
"German guitarist Frank Schültge Blumm and bassist Marcel Türkowsky's Kinn project follows the styles of such artists as John Fahey, Gastr Del Sol, Lennie Tristano and This Heat, with a hint of Steve Reich and Erik Satie's looping minimalism thrown in for good measure. Kinn is a delight that recent converts of Steffen Basho-Junghans and the rest of the recent experimental guitar solo scene will find irresistible. Boosted by Türkowsky's simple and expressive bass work, discreetly tempered with electronic effects, Blumm's technique of allowing space to become an integral part of his playing style gives the music room to breathe and seep into the atmosphere. Rather than ending up as just another Ambient exercise, however, Kinn's rich palette of different tones and worldly musical influences ensure listeners stay on their toes." Kinn - Kinn CD (Tete-a-Tete) reviewed by Edwin Pouncey / THE WIRE 232
Track Listing:
01. Libereso
02. Leuchtende
03. Laumer
04. Lunte
05. Zünder
06. Limone
07. Zink
08. Lakara