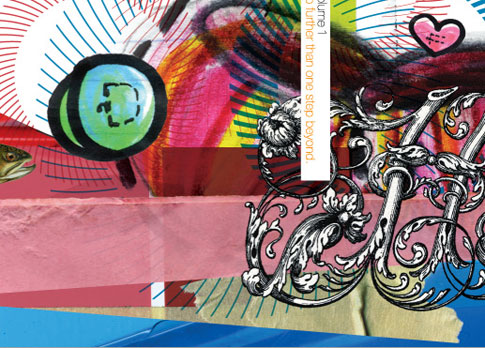 Artist: Various Artists
Title: It's Importland To Me To Be One Step Further Than One Step Beyond: Holocene Music Remix Compilation Volume 1
Release Date: April 18th, 2006
Label: Holocene Music

Holocene, Portland, Oregon's forward thinking club-turned-record-label, is proud to announce its debut release. Teaming Portland indie rock with the city's finest electronic producers, "It's importland to me to be one step further than one step beyond: holocene remix compilation volume 1" presents a snapshot of a thriving creative scene at a time when these seemingly disparate camps have begun meshing into one.
Since opening in the summer of 2003, Holocene has seen countless world-class electronic and underground musicians perform within its artfully designed Southeast Portland walls, quickly establishing itself as a focus point for the city's burgeoning music and arts community. Growing alongside a musical evolution that eschews genre boundaries in pursuit of new and exciting fusions, Holocene has gradually transformed from a mostly electronic format to a carefully curated mix of local and touring bands, DJs, laptop musicians, multimedia art events, and everything in-between.
Here, Holocene takes the next logical step in its role as supportive home base and active participant in this movement, creating a new record label devoted to further exploring the intersection of DIY culture and futuristic technology as it exists in Portland, the Northwest, and beyond. To kick things off, Holocene commissioned a unique collaboration in which a selection of the city's most talented electronic musicians were asked to reinterpret the music of their favorite Portland bands. The result is a post-millennial blend of electropunk, indie rock, and outsider folk, digitally spliced and mutated to form a cohesive album of genre-screwed electronic music.
Despite the project's collaborative nature, Importland's end result is an album that works best when listened from start to finish. For although these are remixes, each track emerges as a song unto itself. Beginning with Talkdemonic's inspiring, percussive take on Menomena, the album warms into Kittenz' squelched-out and funky Blitzen Trapper remix, before dropping us straight onto the dancefloor with Strategy's sparkling tech-house reworking of The Blow. From there the album continues to gather steam, peaking with Solenoid's masterful cyborgian nightmare Point Line Plane remix, before easing us back onto the floor with Copy and Toothfairy's electropop versions of The Kingdom and Bobby Birdman, and ending on a mellow note with psychedelic adaptations of Thanksgiving by World (featuring members of Jackie-O Motherfucker) and The Plants by Strategy (aka Paul Dickow of Nudge).
Tracklist:
01 Menomena "Twenty Cent Revolt" (Talkdemonic's Artists of These Instruments the Drums Remix)
02 Blitzen Trapper "Whiskey Kisser" (Kittenz Remix)
03 The Blow "The Love That I Crave" (Strategy's Strata Club Remix)
04 YACHT "SHTML" (Emergency Ghost's Silly Granny Remix)
05 Point Juncture, WA "The Siesta Movement" (Dizzy Starhouse Remix)
06 Alan Singley "On Leaving" (DJ Tant's Starlight Airport Remix)
07 Snuggle Ups "Ferris Wheel" (PGE's Makeout Sweetness)
08 The Thermals "No Culture Icons" (Ovian Remix)
09 Point Line Plane "Descender" (Solenoid Remix)
10 Hustler White "Deadly Toe Ring" (DJ ASSCLAPP Remix)
11 01 (Pop Music) "Don't Tell Me" (E*Rock Remix)
12 The Kingdom "Love Is My Nation" (Copy Remix)
13 Bobby Birdman "Holiday the Ghost" (Toothfairy Remix)
14 Talkdemonic "June Song" (Spleenless Remix)
15 Thanksgiving "Get Married" (World Remix)
16 The Plants "Acorn Child" (Strategy's Sitar Remix)