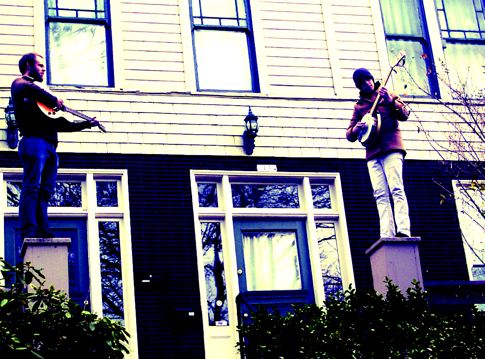 Artist: Horse Feathers
Album: Words Are Dead
Released: Sepember 26th, 2006
Label: Lucky Madison
Words Are Dead is the stunning debut album from Portland, Oregon folk songwriter duo Horse Feathers. Justin Ringle's voice fills out a room with startling results, carrying a strength and confidence that elaborates on the burdens of broken relationships and estranged personal dealings. The album's stark honesty and open-wound vocal deliveries are as personally effecting as they are orchestrated musically, and for that credit is due to prodigal multi-instrumentalist Peter Broderick, who's also been known to play with Norfolk & Western, Dolorean, and Loch Lomond. By using a variety of instrumental arrangements including guitar, banjo, percussion, piano, musical saw, and strings, Horse Feathers draws from a palette of sounds that is old in approach yet fresh in execution. Relying on an unusual mix of stark arrangements with dynamic accents, their sound glistens with efficiency. Influenced by the mood of such artists as Nick Drake, Nebraska-era Bruce Springsteen, Will Oldham, and Cat Power, Horse Feathers evokes the sound of being optimistically broken. Simultaneously dour yet beautiful, they offer the listener an unflinching glimpse into moments of personal reflection.
PRESS QUOTES
"Hear hear! I hear Cat Power and M. Ward in the singer's voice, but more than anything else, ["Finch On Saturday"] reminds me of Arthur Russell's exquisite "A Little Lost". As with "A Little Lost", here the violin plays outside of all the dominant violin traditions: not as a classical instrument, nor as a fiddle, nor as part of a pop string section. Here it is a pop lead, playing slow and lovely riffs that define the song's melody" Said The Gramophone
TRACKLISTING
01. Hardwood Pews
02. Finch On Saturday
03. Dustbowl
04. Blood On the Snow
05. Honest Doubters
06. In Our Blood
07. Untitled
08. Falling Through the Roof
09. Like Lavender
10. Walking & Running
11. Eyes Full of Rose
12. Mother's Sick
Press Contact: Matt Wright, (503) 679-7499