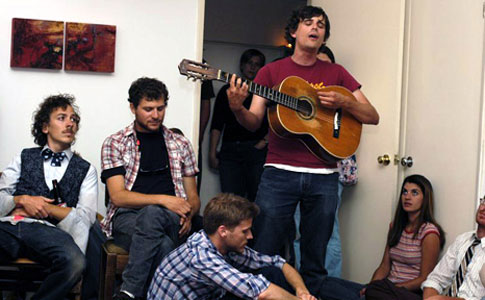 Artist: Golden Shoulders
Title: Kin
Release Date: June 6, 2006
Format: CDep/7"
Label: Welcome Home
Formed in 2001, Golden Shoulders is a loosely assembled group of musicians from beautiful Nevada City, California, led by songwriter and group mainstay Adam Kline. The group has, at various points, included such notables as Joanna Newsom, Todd Roper and Greg Brown (Cake, Deathray), Neal Morgan (Brightblack), Dan Elkan (Hella, Pocket for Corduroy), Josh Klinghoffer (John Frusciante, Beck, PJ Harvey), Rich Good (the Pleased), Kyle Field (Little Wings), Rusty Miller (Jackpot), Rob Kieswetter (Bobby Birdman), and more.
At the bidding of San Francisco-based label Doppler Records, Golden Shoulders entered Brighton Sound Studios in Sacramento, California, and recorded two refreshingly intelligent, politically subversive full-length pop albums. The first, Let My Burden Be, was released in 2002 to excessively positive reviews and enthusiastic radio play, ultimately charting on the CMJ Top 75. 2004's Friendship Is Deep received critical acclaim (including a four-star review in MOJO) and inspired a completely unamplified, electricity-free U.S. tour.
At the tail end of 2005, Golden Shoulders returned to the studio once again with producer Dana Gumbiner (High Speed Scene, onelinedrawing) to record a half-dozen remarkable new songs to be released through Welcome Home Records as the aptly titled KIN CDep/7″ in June 2006. The Golden Shoulders acoustic duo will embark on a U.S. tour to accompany the record's release.
MOJO Magazine, April 2005 (review of "Friendship is Deep")
"This is a very American take on what passes for a Beatles homage, like a rocking alt-country outfit trying to pastiche the 'White Album' or grungy slackers catching up on 'Rubber Soul' pop. " (4 out of 5 stars)
MAGNET Magazine, February 2005 (review of "Friendship is Deep")
"When Adam Kline, the head atop Golden Shoulders, insists he "will light you on fire," you better believe it. This California indie-pop band's sophomore release is a sharp political satire filled with compelling protest lines reminiscent of Bob Dylan's early work."
PRESS CONTACT:
Matt Wright @ Matt Wright PR
503-679-7499, email