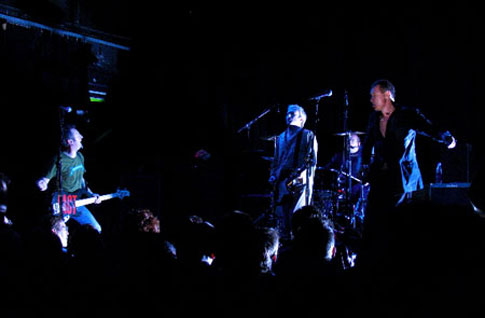 FOR IMMEDIATE RELEASE:
GANG OF FOUR BASSIST DAVE ALLEN'S PAMPELMOOSE COMPANY LAUNCHES OFFICIAL GANG OF FOUR WEBSITE AND ONLINE STORE
September 7th, 2005, Portland, OR -
Gang of Four has launched their official website and online store using technology developed by Gang of Four bassist Dave Allen's company, Pampelmoose.
Created by Pampelmoose, Gang of Four bassist Dave Allen's Portland, OR-based media and technology development and consulting company, the Gang of Four website and online store cements the band's long established reputation for forward-thinking, independent resourcefulness, and lines up alongside recent
DIY efforts from artists such as Prince, Pearl Jam and Fugazi.
Allen explains: "I've been working in the online sphere for a long time now, and with Gang of Four getting back together, it seemed like the perfect opportunity to put those skills to use for the good of the band. The overall idea here is to give Gang of Four a cutting-edge website while allowing the fans a unique opportunity to get exclusive offers on t-shirts and CDs at the lowest prices online."
Starting today, Gang of Four is accepting preorders for their soon to be released album "Return the Gift" (released Oct 11th on V2 Records) along with exclusive items including limited edition concert posters and t-shirts. What's more, the band is making the album available to its fans at the lowest possible online price.
The official Gang of Four online store can be accessed via the band's website - http://www.gangoffour.us. The website also includes a bonus media area accessible via a special password included in each "Return the Gift" CD. Bonus materials include exclusive mp3 downloads and Quicktime videos.
The site was developed by Allen's company, Pampelmoose, a media and technology development and consulting company that helps musicians, indie labels, and small creative businesses develop a strong online presence with the ability to sell their products through their own online store. In addition to providing Gang of Four with a perfect online solution for their needs, the Gang of Four website and store serves as a showcase for Pampelmoose's ability to connect musicians and their fans through innovative online technologies.
ABOUT PAMPELMOOSE:
Pampelmoose, the company that created the GO4 webstore, was formed in February of 2004 by Allen and a coalition of likeminded creative individuals with strong ties to the local Portland, Oregon music scene. Pampelmoose is a media and technology development and consulting company that helps musicians, indie labels, and small creative businesses develop a strong online presence with the ability to sell their products through their own online store.
By using a creative mix of old and new school techniques, Pampelmoose posseses the necesary skills to help guide musical artists and small labels through all the available options for building a career or selling CDs cost effectively. Depending upon each clients' unique needs, services include - career counseling and guidance to full blown artist management; web site design and implementation complete with online store or merely selling their CDs and T shirts through the Pampelmoose store.
ABOUT DAVE ALLEN:
Dave Allen has spent his entire career in all areas of the music industry. Starting in 1976 he was co-founder of the hugely influential UK post-punk rock group, Gang of Four. After moving to the USA from London in 1989 he created the independent record label, World Domination Recordings, in partnership with Capitol Records in Los Angeles. In 1999 he became General Manager, Los Angeles Division, of Emusic.com (http://www.emusic.com) the world's first pay-for-download music service offering open format MP3 files for end users. In 2000 Dave was hired by Intel Corporation to become Director, Business Development for their Consumer Digital Audio Services Operation (CDASO) in Beaverton, Oregon. CDASO was an internal start-up at Intel charged with developing consumer internet-connected products such as MP3 players, Home Entertainment Servers and wireless devices to deliver internet files to legacy hi-fi systems within the home. In 2003 Dave joined the Overland Agency where he created the Overland Entertainment Division and its online music store, OEbase.com (http://www.oebase.com) He is also a partner in the Portland weekly Arts & Culture email newsletter, Strong Week (http://www.strongweek.com).
ABOUT GANG OF FOUR:
Gang Of Four reformed for a series of hugely acclaimed UK and US live dates earlier this year, and now they are revisiting their back catalogue. "Return The Gift" is a double-album (available as two separate albums in the US) that finds GO4 re-recording seminal tracks from "Entertainment!", "Solid Gold" and "Songs Of The Free", along with a second disc featuring remixes from a slew of contemporary bands and producers, including Ladytron, Yeah Yeah Yeahs, No Doubt's Tony Kanal, Faultline, Amusement Parks on Fire, and more. The album will be released worldwide via V2 Records under exclusive license from Gang of Four.
The band, icons and inspiration for many of the world's biggest acts (REM, U2, Rage Against The Machine, Red Hot Chili Peppers), and who perhaps more than any other, serve as direct stylistic antecedents of today's guitar heroes (step forward Franz Ferdinand, Futureheads, The Rapture, Radio 4, Liars et al), have not been seen in this formation since 1981. Jon King (vocals), Andy Gill (guitar and vocals), Dave Allen (bass) and Hugo Burnham (drums) had by then been responsible for 1978's epochal "Damaged Goods" debut EP, as well as the genre-defining "Entertainment" album (1979) and its follow-up "Solid Gold".
For more info contact:
Matt Wright / 503-679-7499 / matt@mattwrightpr.com