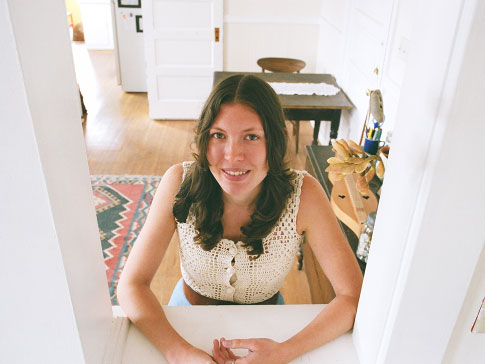 Artist: Alela Diane
Album: The Pirate's Gospel
Released: October 24th, 2006
Label: Holocene Music
Holocene Music is honored to present the debut release from Portland, Oregon singer and songwriter Alela Diane. Hailing from the deep woods and winding rivers of Northern California Gold Rush town Nevada City, Alela grew up singing songs with her parents (both musicians), and performing in the school choir. During a stay in San Francisco in 2003, she began teaching herself guitar and writing her first songs, blending tense, trance-like arpeggios, with warm, thick vocals and meditative lyrics about family and nature.
Written in response to a loss of home and familiarity, The Pirate's Gospel is a powerful document of personal reevaluation and renewal set against the backdrop of generations past and future, mothers and fathers, life, death, and birth. The songs were composed during a trip to Europe and recorded in her father's studio in Nevada City. Originally available only in hand-stitched limited runs, this pressing marks the first time The Pirate's Gospel has been made available outside of Alela's immediate circle of friends and fans.
PRESS QUOTES
Hartley Goldstein, Other Music
"Gospel is yet another fully-formed new-folk classic. […] Homegrown. Patchwork. Arrestingly intimate. Brazenly playful. Immaculately arranged. It's as good as Milk-Eyed Mender, or Rejoicing in the Hands. […] Best New Artist of '07?"
Barry Walters, SPIN
"Alela Diane Menig sings stark, ghostly folk. […] Far less girly than kindred spirit Joanna Newsom, and no less commanding, this Portland based siren shares with her pal a primitivism shaped by backward glances and backwoods living. Warning of nightmarish rural invaders in "The Rifle" and vowing to keep her eyes open on the showstopping sea chantey title track, Diane seems destined for grander endeavors."
Bill Copeland, Venus
"Diane gives simple objects meaning by attaching to them personal significance and uses her uncanny, wide timbre to bring out greater emotion in each."
Ned Raggett, All Music Guide
"[The Pirate's Gospel] showcases Alela Diane's knack for gentle, immediate melodies and her fine voice, possessed of a hint of twang that suggests a combination of Dusty Springfield and Kristin Hersh, with a rich maturity beyond her years."
Will Hermes, The New York Times
"This summer kindred bands like the darkly pastoral Espers [and] the gorgeously lyrical Vetiver… are all releasing CD's. And that's not to mention promising artists like Alela Diane who are popping up almost daily on Internet showcases."
Mike McGonigal, Amazon.com
"Alela's a talented vocalist, in the vein of Josephine Foster, Regina Spektor, and Jolie Holland. At times she even approaches the heights of Karen Dalton and Joni Mitchell. More soon, please!"
TRACKLISTING
01. My Tired Feet
02. The Rifle
03. The Pirate's Gospel
04. Foreign Tongue
05. Can You Blame The Sky?
06. Something's Gone Awry
07. Pieces of String
08. Clickity Clack
09. Sister Self
10. Pigeon Song
11. Oh! Mama
Press Contact: Matt Wright, (503) 679-7499